SehaMed joins DIT's Overseas Referral Network
We are excited to announce that we are now an approved Service Provider to the Department for International Trade (DIT) and have joined their Overseas Referral Network (ONS). As an approved provider, our global MedTech Marketplace will be recommended to British medical device manufacturers as an effective tool to drive their expansion within the European healthcare markets and beyond.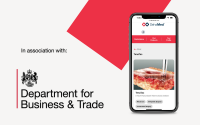 About the DIT Export Service International Markets (ESS IM)
ESS IM Europe is part of a wider Department for International Trade (DIT) programme designed to provide specialised, meaningful export support in vital markets for UK businesses. The service provides UK companies with market information and one to one guidance about the European market and, where appropriate, introduces participating companies to third party service providers who can offer commercial support to help them achieve export success. 
Europe can be a complex market and we want to ensure that UK companies have access to the high-quality support services they need to succeed there. The Provider Register comprises a range of third- party providers, who all have experience of servicing clients expanding in Europe and can supply a variety of specialist services to UK companies on a fee-paying basis.