MedTech Speed Pitching
We are excited to unveil the SehaMed™ Online Speed Pitching event exclusively for MedTech manufacturers and distributors operating within the hospital environment!
The best part? This event is absolutely free of charge and welcomes everyone within the sector!
Whether you are a UK/EU or US manufacturer of an innovative hospital device or equipment looking to enter new markets, or an established distributor eager to explore new products and exclusive distribution opportunities, this event is tailor-made for you! TICKETS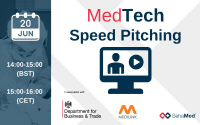 Making new connections
During the event, manufacturers will have the unique opportunity to pitch their device (5-10mins) to a global distributor audience and connect with potential new partners. Further information on the pitching format will be provided after booking.
Don't miss out and book your free TICKET now as spaces are limited!